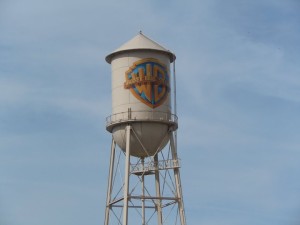 Since my main purpose for visiting LA was to celebrate Spaldy's birthday, it was only fitting that we did something that she had been dying to do for years: go on the Warner Brothers VIP Studio Tour.  Of course, I would be lying if I didn't admit that I was also excited to go on this tour.
We got to the tour headquarters about a half-hour before our scheduled departure time.  That meant we got to look around the store to see what items we may want to acquire at the end of the tour.  We did not go on the deluxe tour due to its expense ($200 per person); we went with the regular, 2 1/2 hour tour ($50).
The tour begins with a brief movie about the history of Warners and lots of clips of many iconic movies.  Then we were divied up among 4 tour guides.  We got lucky to have the guide we did; he was enthusiastic and well-informed through out the entire time.  He took us around to various street and wooded sets, explaining what processes were used to create certain illusions, as well as what famous movies and TV shows were filmed there.  I loved seeing the shop from the beginning of Gremlins, as well as Hazzard County from The Dukes of Hazzard.  Sure, most of the Hazzard set is used for Pretty Little Liars and Gilmore Girls, but I ignore that part.  We did see them filming scenes for The Whole Truth, with Maura Tierny.
Leaving the exterior sets behind, we went by many soundstages.  We saw Conan O'Brien's area — unfortunately he was not roaming around.  We got to go into a grage housing many iconic vehicles, including Batmobiles, the General Lee, and the Nerd Herd from Chuck.  If there had been a James Bond car there, it would have been car heaven.  From there, we went to the set of The Mentalist and walked through all of the interiors.  The bonus of this was parking outside of the actor trailers for Chuck.  A short ride away was the Central Perk set from Friends and the storehouse of various iconic props.
The tour ended with a walkthrough of the Warner Brothers Museum.  Here, we saw the actual costumes worn by actors from Casablanca all the way up to The Dark Knight.  This is the source of my only beef with the tour — not enough time in the museum.  We did not make it to the second floor.
My Advice: definitely worth the time and money when in LA.