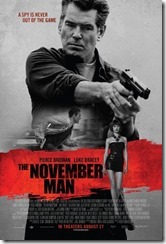 Most people naturally think of James Bond when they hear the name Pierce Brosnan, particularly when the word "spy" is in the same sentence. Given the strong association of any actor who has played that iconic role, any spy movie not relating to the world of James Bond has to be better than the average spy movie due to the immediate comparisons to the Bond franchise. Even more importantly, a new spy movie that is not being touted as a reboot or remake should not immediately evoke memories of a movie that was out 13 years prior.
After a long Labor Day weekend that had me moving apartments, I needed a movie. Part of my bribery…err…convincing of my buddy Russ to help out was that I would cover the cost of the movie. The original plan was to see Guardians of the Galaxy since Russ had not seen it; unfortunately the times didn't work out. The November Man fit the schedule and was one that captured our interest. Only downside was that it was a Regal location; however the AMC at Downtown Disney is hampered by poor parking.
The November Man centers around a spy who has retired and is enjoying life out of the spy game. An old handler shows up with a mission that requires Brosnan's special touch. What follows is a fairly formulaic movie with predictable plot points. What was jarring for me was that within the first 10 minutes I immediately flashed on the memory of watching 2001's Spy Game with Robert Redford and Brad Pitt. Sadly this memory kept popping up throughout trying to watch The November Man. Spy Game had a better story, which made things worse.
The charm of Brosnan does a lot of the heavy lifting of this movie, but it is not enough to save it. The director and writers are to blame for this mess. I wanted to include the trailer as part of this review, but can't due to the fact that the majority of the contents are from the last 30 minutes of the movie. That makes it way too easy to spoil already easy-to-detect plot points. The positive of the afternoon was that we saw it at matinee price.
My advice: wait for cable or streaming. It is not worth making a trip to the theater, particularly when USA has aired better options with Burn Notice and Covert Affairs…